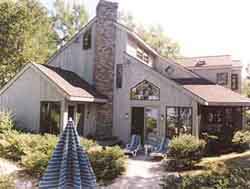 Nestled on the beautiful shores of Lake Michigan, 13 miles south of Charlevoix, a truly unique home sits in the midst of its own natural paradise along the edge of the sparkling blue waters.
Built by a west coast architect, this one-of-a-kind California-style home displays a fine degree of craftsmanship in its exposed rafters, elegant joinery, angled beams, and balcony banister. Forthright, direct and functional, the home represents good taste and elegancy in its simplicity of design. While its "woodenness" expresses both the beauty and function of the design, the cathedral ceiling, windows and glass doors create an open, airy, and light filled atmosphere.
Central to congeniality, the living room hearth invokes conversation and companionship from its guests. From the balcony upstairs, vistas look upon the apple orchard or out to sea, drawing one's soul and spirit into quietness and rest.
Harmonizing with its surroundings, the character of the home is so natural and unaffected that it seems to sing into and blend with its landscape, extending easily into the exquisite out-of-doors. Glass doors lead you outside to the veranda, terrace and down the path to the water's edge. Bedecked with sculpture, flowers and plants, a picture of an "up-North retreat" comes quickly to mind. A place set apart, Lake Michigan's Abiding Place offers breathtaking beauty in charming, clean and comfortable accommodations.