Aesthetically decorated, Lake Michigan's Abiding Place reflects a love for poetry, old books, fine art, music, education, crafts, and nature.
Lake Michigan Suite, open and airy, overlooks Lake Michigan. Sleep to the sounds of water. Whirlpool for two, queen bed, fireplace, private bath, and glass doors opening to the terrace. A perfect place for those special occasions.
Bay View Room, looks out to the sight and sound of Lake Michigan's waters. Upstairs off the balcony, the room has a queen bed and private bath.
Sea Gull's Nest, a bright and cheery room. Charming day bed makes this room a perfect place for one, yet easily accommodates another pullout trundle.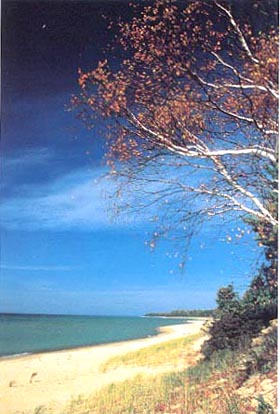 Walk our Beaches!